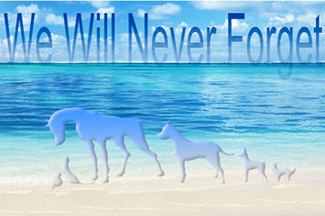 In Memory Of...
Amanda Villmer...June 17, 2011
Amanda passed away on June 21, 2011 in Tallahassee, FL. She Graduated from Countryside High School, FSU, & the St. Thomas School of Law. She was a member of the PAD Law Fraternity. Amanda was an attorney/worked for the Department of Children & Families. Survivors include: mother, Nancy Villmer; grandmother, Elizabeth Villmer, uncles, Richard Anderson, Robert Anderson, Gary Anderson and wife Marlene; cousins, Eric and Jenny Anderson, Jason Anderson, Jamie Laird, Katie Anderson, JD & Kaycee Anderson. She was preceded in death by her father, Michael Villmer, her grandfathers & grandmother, Raymond Villmer, Richard & Jane Anderson. A memorial service will be held Saturday, June 25, 2011 at 1:30 PM at Good Shepard Catholic Church, Thomasville Rd., with refreshments following the service. In lieu of flowers, you may make a donation to the Tallahassee Big Dog Rescue or the Lupus Foundation.
Georgia Maynard...May 20, 2011
Maynard, Georgia Harvell "Joyce," passed away peacefully to be with the Lord at Melech Hospice House May 20, 2011, embraced by the love of her daughter, Lisa Maynard Pasquarelli (Jason); her mother, Evelyn Meggs Harvell; and her only sibling, her sister, Frances Harvell Campbell (Sterling), who were at her side throughout her illness. Her death followed a long, courageous battle with cancer. She faced this ordeal as she faced life, with optimism, courage and calm determination. Georgia was preceded in death by her husband, Hubert "Herb" T. Maynard, and her father, George Henry Harvell. She is survived by her loved ones listed above, numerous cousins and friends.
Andrew Priest...January 17, 2011
Andrew Priest passed away on January 17, 2011, after a brief battle with pancreatic cancer. Andrew worked at the Florida Environmental Protection for the past 18 years. He made many friends over those years and met the love of his life, his beautiful wife Tracie. He loved the water and anything to do with it like: swimming, protecting it, surfing, and sailing. Andrew loved his dogs they were his pals. He adopted 2 of his best friends from Tallahassee Big Dog Rescue. Andrew made a request to his family and friends that instead of flowers that he would like donations to be made to our organization. Big Dog Rescue would like to say a big THANK YOU to Andrew and his family and friends for thinking of our organization. We are so happy that we were able to give Andrew two wonderful additions to his family and because of him we are able to save many more lives that are looking for the love Andrew gave his dogs. T Tracie, Gloria, Stephen and the rest of his family and friends we are very sorry for your loss. We know that "Dude" will live in your hearts forever.
Garrett Curtis Capps-Gordon...January 28, 2012
Garrett Curtis Capps-Gordon passed away Saturday January 28, 2012 at Tallahassee Memorial Hospital after a tragic accident at his home in Tallahassee. He was only 14 years old, born on April 17, 1997 in Tallahassee. He lived with his mother, Catrina Capps, and his grandmother, Sonya Capps, in Bristol, Florida until he was 10 years old. He then moved to Tallahassee to live with his father, James Gordon, and his stepmother, Jeanne Waggaman, until his passing. Garrett was a vivacious and charming young teenager who never knew a stranger. He was constantly saying hello and starting up conversations with anyone who had the time. His smile could light up the world, and did. Garrett would do anything for a laugh. He enjoyed pranks and was big into drama if he thought he could get a smile out of you. Garrett had a special way with animals and they always loved him, which was good since he had cats, dogs, and parrots at his home. One cat in particular, Minerva, slept with him every night. She has been looking for him ever since he left us. Garrett loved anything that had to do with the outdoors -- biking, hiking, rowing, fishing, hunting, four-wheeling, fort-making, tree climbing, swimming, and camping. He was on the 8th Grade Capital City Crew Team for a short while and won First Place with his teammates at a competition in Tampa on December 3rd, 2011. Garrett was so proud of his medal that day.